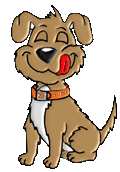 Lodge Cuisine
Sudden changes in an animal's diet will cause gastric discomfort. Owners are required to provide their pet's customary food for this reason. (Contact us about food arrangements for long-term Lodge guests). Need more food? Click here to visit Petsmart.com (allow 3-5 days)
We provide nutritious treats for cookie breaks. However, if there are special goodies that your friend particularly enjoys, feel free to bring them. You must supply your own treats if your pet is on a special diet for medical reasons. We have ample refridgerator and freezer space for those diets that require them.
We are happy to feed your dog according to your instructions, including raw foods diets.
Dogs who arrive without food, will be fed our Diamond naturals (no corn wheat or soy) brand food for a $1.00 per dog per day fee. You may also purchase a bag of Diamond for their stay.
---
At the Lucky Dog Lodge, we treat your pet like a member of the family. Our priority is the happiness and safety of each guest. Rest assured that your pet will have an ideal vacation stay, enjoying our luxurious facilities and peaceful rural setting. Your companion is in caring and capable hands.